Teaser Tuesday is a weekly bookish meme, hosted by Jenn of Books And A Beat.
Here's what you do for Teaser Tuesday:
• Grab your current read
• Open to a random page
• Share two (2) "teaser" sentences from somewhere on that page
• BE CAREFUL NOT TO INCLUDE SPOILERS! (make sure that what you share doesn't give too much away! You don't want to ruin the book for others!)
• Share the title & author, too, so that other TT participants can add the book to their TBR Lists if they like your teasers!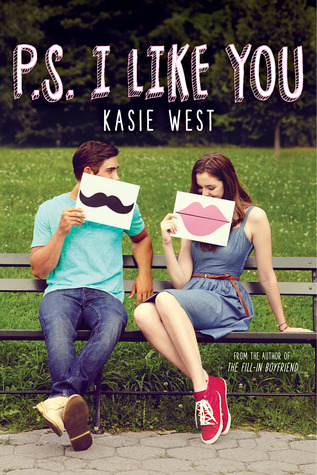 "My eyes went to the lyric I had written on the desk Friday.  That's when I saw a line beneath mine written in blocky handwriting.
For the night will soon bring back it's shadows.
It was the next line of the song.  What? I was confused.  Someone else that went to this school had actually heard one of my favorite songs?  Apparently I wasn't the only one bored in this class."
-pg. 30 "P.S. I Like You" by Kasie West
"The thought made me laugh. Out loud.  My eyes shot to the front of the room, but my teacher was in the middle of a sentence so thankfully he didn't seem to notice my outburst.
Lauren, sitting next to me, had, as evidenced by the look on her face.  I knew that look.  It was basically the silent version of why are you so weird?"
-pg. 31 "P.S. I Like You" by Kasie West
So far, I'm enjoying P.S. I Like You by Kasie West.  It's my first time reading anything by her and it's just what I was in the mood to read.  It's a super cute, quick and very fun little book.  Although it's been awhile since I was in high school, I can relate a lot to the main character Lily and her feelings towards socializing.  West's writing, although light and fun is still engaging and I'm enjoying her writing style.
Happy Tuesday!  Happy Reading!