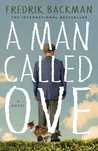 A Man Called Ove by Fredrik Backman
My rating: 4 of 5 stars
A Man Called Ove is a beautiful story that explores its characters beyond who they appear to be on the surface, especially Ove. Ove, at first glance, is your typical grumpy old man of a character. But, there is so much more to Ove and by the end of the book I had so much love for Ove's character. Ove's story will frustrate you, make you laugh and break your heart. But, by the end of the story, the reader cannot help but have love override all else for Ove.
Ove's "annoying" neighbors play such an integral role in his life that they have no idea about. With each annoyance they are changing the course of Ove's life. It made me think about how many times we might be unknowingly changing the course of someone else's life. Often we have no idea what others are going through in life and what we see may be just a tiny piece of what that person is all about. Backman explores this in such a wonderful way through Ove, his wife Sofia and their neighbors.
In A Man Called Ove, Backman takes the reader on a journey of exploring what happens when we judge someone before we truly know them. Sofia, Ove's wife, is such an amazing, non-judgemental character and their love story is truly magical. She has the greatest impact on Ove's life in so many ways.
Backman does a wonderful job of infusing such ridiculous thoughts, actions and requests from Ove in the perfect places throughout the book. It adds a great break and lightness throughout the book and the exploration of such a heavy main theme of the judgement of others. The reader can't help but smile or laugh throughout much of Ove's life.
Ove will break your heart and he'll also make you laugh. Most importantly, Ove will remind the reader of the dangers of judging others. Ove is not the man we meet at the beginning of this book. He is so much more then that grumpy old man. How many people that we see in our daily lives are so much more then what we see of them in a quick glance? How much can something as small as a smile, instead of being annoyed by someone, impact them, especially if it's a tough day for them? Ove, his wife and neighbors will make the reader think and remind them of the importance of loving others just as they are.