Potter Month was hosted by Kristen from superspacechick.com and Meagan from thenerdiegirlie.com to celebrate the release of  Harry Potter and the Cursed Child  on July 31,2016.
Well, I didn't get as much Harry Potter reading done as I had hoped to at the beginning of July.  I did get some reading done and I plan to continue on my quest to finally complete the Harry Potter series, so I'm okay with that.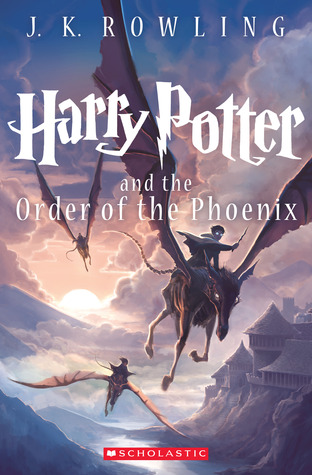 I did read some of Harry Potter and the Order of the Phoenix this month.  I'm just over a quarter of the way through this 870 page book.  I'm enjoying spending the end of July back at Hogwarts and immersed in this world.  I'm hoping to read some more of Harry Potter and the Order of the Phoenix today before we say goodbye to July and to Potter Month.  Even though Potter Month is ending, I will be continuing to read this series.
Also, this month I took the quiz on the Pottermore website to see which Hogwarts House the Sorting Hat would sort me into.  I got: Gryffindor!  What house are you sorted into?
Potter Month was a lot of fun!  I hope everyone who has read and re-read this series already is enjoying being back immersed in this world again with the release book book #8, Harry Potter and the Cursed Child.  I will catch up to all of you sometime soon and enjoy this new release as well.  🙂